Frederick Douglass
By John T. Marck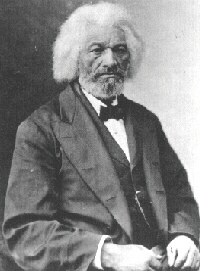 Frederick Douglass was born Frederick Augustus Washington Bailey in February 1818. He was born on a farm on Lewiston Road, Tuckahoe, near Easton, in Talbot County, Maryland. Frederick was the son of an unknown white father, and Harriet Bailey, a slave who was a part African and Native American. Frederick was born a slave on the great plantation owned by the Lloyd family. At times, they referred to him as Frederick Lloyd. When he was eight years old, he was separated from his mother and never saw her again.
As a child, Frederick was legally classified as real estate or property rather than as a human being. He experienced much neglect and cruel treatment, and hard work brought on by the tyranny toward slaves. Resistance by slaves usually resulted in even more cruel treatment. However, in Frederick's case it paid off. By fighting back toward his cruel master, Colonel Lloyd, and following a failed escape attempt, he was sent to Baltimore as a house servant at the age of eight. In Baltimore he learned to read and write with the assistance of his mistress, although was mostly self-taught. Having now learned to read and write he soon began to conceive of his freedom. Frederick was fortunate in that the Lloyd family often would severely whip slaves who were hard to manage or who tried to escape, then sent them to Baltimore, only to be sold to a slave trader, as a warning to all other slaves.
Upon the death of his master, Frederick was returned to the country as a field hand. Here, he conspired with six other fellow slaves to escape. Their plan a failure, and betrayed by another, he was placed in jail. His new master, being a tolerant sort, arranged for his release from jail and returned him to Baltimore. Again, in Baltimore, Frederick learned the trade of a ship carpenter, and in time, was permitted to hire his own men.
On September 3, 1838, Frederick made another escape attempt, and this time was successful. He traveled to New York, changed his last name to Douglass, and married a free black woman named Anne Murray, whom he had met in Baltimore earlier. Together they moved to New Bedford, Massachusetts, where Frederick worked as a laborer.
In search of a new career, Frederick read Garrison's Liberator, and in 1841 attended a convention of the Massachusetts Anti-Slavery Society in Nantucket. One of the attending abolitionists overheard Douglass speaking with some of his black friends. Impressed, this man asked Douglass to speak at the convention. Although reluctant, he did so, and although he stammered, his speech had a remarkable effect. As a result, and to his surprise, they immediately employed him as an agent to the Massachusetts Anti-Slavery Society, and a new career was born.
In his new position, he participated in the Rhode Island campaign against the new constitution that proposed the disfranchisement of blacks, which denied them the right of citizenship and the vote. He was the main figure in the famous "One-Hundred Conventions," of the New England Anti-Slavery Society. Here he was mobbed and beaten and forced to ride in "Jim Crow" cars and denied overnight accommodations. ("Jim Crow" refers to the "legal" repression of slavery or segregation). Yet through this all, he remained and saw the planned program to the end.
Douglass possessed a strong physique, being more than six feet tall, with a strong constitution and an excellent speaking voice. Because of this, those who heard him speak, began to doubt his story of having ever been a slave, and that he was basically self-taught. Because of these doubts, Frederick wrote his Narrative of the Life of Frederick Douglass. However, a friend, Wendell Phillips, advised Douglass to burn the book because he recounted his life as a slave, and Phillips believed releasing it would re enslave Douglass. Douglass refused and published the book in 1845. However, to avoid any possible consequences, he traveled to Great Britain and Ireland. He remained there for about two years where he had the opportunity to meet and get to know the English Liberals. In this environment, they treated him as a man and an equal for the first time in this life. This resulted in improving his character and self-esteem. From this experience, he truly started to believe that freedom, not only physical, but social equality and economic and spiritual opportunities were possible.
In 1847, he returned to the United States, and having enough money, he bought his freedom and established a newspaper dedicated to his race. Many of his white abolitionist friends disagreed with his views in this newspaper, and others believed that the ability to purchase his freedom was in fact condoning slavery. However, Douglass, upon learning these criticisms, handled them in a practical manner.
Douglass went on to establish his newspaper, the North Star, and published it for seventeen years. Furthermore, he lectured, was a supporter of woman suffrage, took an active part in politics, and helped Harriet Beecher Stowe establish an industrial school for black youth. He also met with John Brown, and counseled him. Upon Brown's arrest, the Governor of Virginia attempted to arrest Douglass as a conspirator. To avoid arrest, Douglass fled to Canada, then England and Scotland, where he again lectured.
With the outbreak of the Civil War, additional opportunities came his way, by which he passionately fought against slavery as its major cause. He assisted in convincing black men to join the Union army, and he helped in recruiting for the 54th Massachusetts colored regiment, offering his own sons as the first recruits. Twice during the war, President Lincoln invited him to the White House to discuss important matters concerning the black soldiers in the Union Army.
Following the Civil War in 1877, Douglass was appointed as United States Marshall for the District of Columbia by President Hayes, and in 1881, President Garfield appointed him Recorder of Deeds for the District of Columbia.
In 1884, Douglass married again. His second wife was Helen Pitts, a white woman, which brought about much criticism. Concerning this, he maintained his sense of humor by saying, "my first wife was the color of my mother, and my second wife, the color of my father." In 1891, President Harrison appointed Douglass as Minister-Resident and Consul-General to the Republic of Haiti, and as Charge d'affaires for Santo Domingo.
On June 22, 1894, Douglass gave an address at the Sixth Annual Commencement of a Colored High School in Baltimore, Maryland. In his address, Douglass said: "The colored people of this country have, I think, made a great mistake, of late, in saying so much of race and color as a basis of their claims to justice, and as the chief motive of their efforts and action. I have always attached more importance to manhood than to mere identity with any variety of the human family..." "We should never forget that the ablest and most eloquent voices ever raised in behalf of the black man's cause were the voices of white men. Not for race, not for color, but for men and for manhood they labored, fought, and died. Away, then, with the nonsense that a man must be black to be true to the rights of black men."
Frederick Douglass died on February 20, 1895. Active to the end, on the day he died, he attended a woman-suffrage convention.
Copyright © 1993-2022 by John T. Marck. All Rights Reserved. This article and their accompanying pictures, photographs, and line art, may not be resold, reprinted, or redistributed for compensation of any kind without prior written permission from the author.
A Splendid Time Is Guaranteed For All