Anne Wolseley Calvert
Take a look at Anne Wolseley Calvert, the wife of Philip Calvert, who was the son of Cecil Calvert, the Second Lord Baltimore. Using her skull which was uncovered in St. Mary's City, a facial reconstruction was made, from which Anne came alive again.
By John T. Marck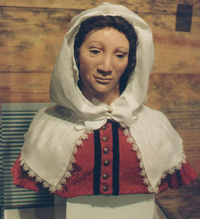 On March 20, 1628, George Calvert and his second wife, Joanne, had one son, Philip. He would go on to marry Anne Wolseley. Together, Philip and Anne arrived in Maryland in 1657. They were sent by Cecil Calvert, Second Lord Baltimore to oversee the reestablishment of Lord Baltimore's government, which the radical Protestants, with the support of Virginia, had taken over in 1654.
Inside the museum at Historic St. Mary's City are many interesting exhibits. One such exhibit is a facial reconstruction. Nationally recognized forensic artist Sharon Long, from the University of Wyoming, created this facial reconstruction of Anne Wolseley Calvert.
Ms. Long first examined and measured the proportions of the recovered skull. Using molding and casting processes she reproduced a skull identical to the original.
Ms. Long then referred to a tissue measurement index that lists an average thickness at key points on the skull which vary according to sex, race, age and weight.
After locating and marking tissue depth on the plaster skull the areas were filled with clay. Features were then carefully sculpted and skin given color.
Age markings, eyebrows, eyelashes, and hair were added to complete the likeness.
Copyright © 1990-2022 by John T. Marck. All Rights Reserved. This article and their accompanying pictures, photographs, and line art, may not be resold, reprinted, or redistributed for compensation of any kind without prior written permission from the author. From Maryland The Seventh State A History, by John T. Marck. Copyright © John T. Marck, All Rights Reserved. Photograph by John T. Marck, unauthorized reproduction is prohibited.