Historical Figures From Maryland
Maryland's Historical Sites and other Places of Interest
Historical African American Figures From Maryland
Former Great Seals of Maryland
Maryland's Governor's 1634 to Present Day
Maryland's County Establishment
Maryland State Parks and Forests
Fort Frederick and the French and Indian War
The Maryland Men Who Signed the Declaration of Independence
The Peggy Stewart
By John T. Marck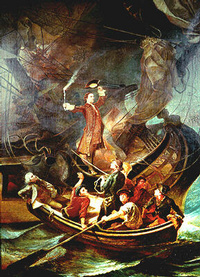 An Annapolis resident, Anthony Stewart owned a ship known as the Peggy Stewart, named for his daughter. Loaded with 2,000 pounds of tea the ship arrived at Annapolis harbor. Anthony Stewart decided that he would pay the tax on the tea, and have it quietly moved ashore; but soon the word of his intentions got out. Citizens became angry, and gathered at the harbor. As tempers grew hotter, the group of angry citizens went to Stewart's house and confronted him. They reminded him that he should be loyal to the non-importation agreement, although he had refused to sign it. The angry crowd gave him a choice; burn the ship "or be hanged right here at your front door."
Stewart agreed to burn the tea and offer a public apology, but pleaded to let him unload the rest of his valuable cargo. Although some people agreed, the mob continued to shout louder. Fearing for the safety of his family, he agreed to burn his ship. On October 19, 1774, Stewart ran his ship aground and applied the torch himself.
The crowd cheered as the ship burned to the water. Not only did Stewart lose his valuable cargo, but also his ship worth thousands of dollars. Some people believe that the punishment was too harsh, that he should have been permitted to burn only the tea. But many experts do agree that this action clearly demonstrated the determination Marylanders felt against England and the taxes imposed. During the early hours of April 19, 1775, the four regiments of British troops sent to enforce the laws of England had arrived in Boston's harbor.
Observing their arrival, Paul Revere and William Dawes galloped on their horses through the streets shouting "The British are coming!" All this day, the Americans and British fought in a bloody battle at Lexington and Concord. "The shot heard round the world" was fired, and the American Revolutionary War had begun.
Copyright © 1990-2022 by John T. Marck. All Rights Reserved. This article and their accompanying pictures, photographs, and line art, may not be resold, reprinted, or redistributed for compensation of any kind without prior written permission from the author. From Maryland The Seventh State A History, by John T. Marck. Copyright © John T. Marck, All Rights Reserved. The Burning of the Peggy Stewart painting by Francis Blackwell Mayer, courtesy Maryland Office of the Secretary of State/Maryland Commission of Artistic Property. Reprinted by permission.
A Splendid Time Is Guaranteed For All