Historical Figures From Maryland
Maryland's Historical Sites and other Places of Interest
Historical African American Figures From Maryland
Former Great Seals of Maryland
Maryland's Governor's 1634 to Present Day
Maryland's County Establishment
Maryland State Parks and Forests
Fort Frederick and the French and Indian War
The Maryland Men Who Signed the Declaration of Independence
The Great Seal of Allegany County
By John T. Marck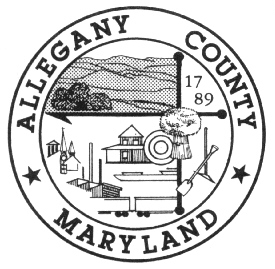 The County was created in 1789 from Washington County (Acts of 1789). Allegany comes from the Indian word "Allegiwi" meaning "beautiful stream."
The sheaf of wheat that appears in the design is taken from the Allegany County Commissioners' seal that was adopted in 1829. Four lines radiate as compass points from the sheaf of wheat. Emphasis is placed on the west compass line to signify the location of the county in Maryland and to emphasize the historical importance of Allegany County in the westward movement. The lower section on the right side contains a pick and shovel and is symbolic of the coal mining industry that has been a vital part of the county history. The upper section of the seal is symbolic of the Appalachian location of Allegany County with its beautiful hills and streams. The largest section of the seal contains design elements representing the role that roads and various forms of transportation have played in the history of the county. The toll house and the wheel for the first national road, and the canal barge and railroad cars for the western movement. Also included in this segment of the seal is the symbol for industry and a cluster of building forms symbolizing the cultural and religious heritage of Allegany County.
Copyright © 1990-2022 by John T. Marck. All Rights Reserved. This article and their accompanying seals, may not be resold, reprinted, or redistributed for compensation of any kind without prior written permission from the author. Maryland County Seals and Baltimore City Seal and their respective origin histories from: Maryland The Seventh State A History, © John T. Marck. All Rights Reserved. All Seals courtesy of the respective county, Office of the County Executive and/or the Department of Tourism. Reprinted with permission.