Historical Figures From Maryland
Maryland's Historical Sites and other Places of Interest
Historical African American Figures From Maryland
Former Great Seals of Maryland
Maryland's Governor's 1634 to Present Day
Maryland's County Establishment
Maryland State Parks and Forests
Fort Frederick and the French and Indian War
The Maryland Men Who Signed the Declaration of Independence
The Great Seal of Calvert County
By John T. Marck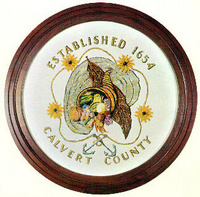 Calvert County was established by an Order in Council of 1654, the fourth county to be built, and called Patuxent County until 1658. The County name derives from the family name of the proprietary, the founding family.
The Seal was designed and adopted as the official Calvert County seal in 1954. It shows a Tobacco Leaf, Calvert's leading product; a Horn of Plenty symbolizing fertility and hospitality of Calvert County; an Oyster Shell portrays the bountifulness of Calvert's Seafood Industry and Rope and Anchors which symbolizes the nautical tradition of our forefathers which continues to be perpetuated today.
Copyright © 1990-2022 by John T. Marck. All Rights Reserved. This article and their accompanying seals, may not be resold, reprinted, or redistributed for compensation of any kind without prior written permission from the author. Maryland County Seals and Baltimore City Seal and their respective origin histories from: Maryland The Seventh State A History, © John T. Marck. All Rights Reserved. All Seals courtesy of the respective county, Office of the County Executive and/or the Department of Tourism. Reprinted with permission.