The Great Seal of Caroline County
By John T. Marck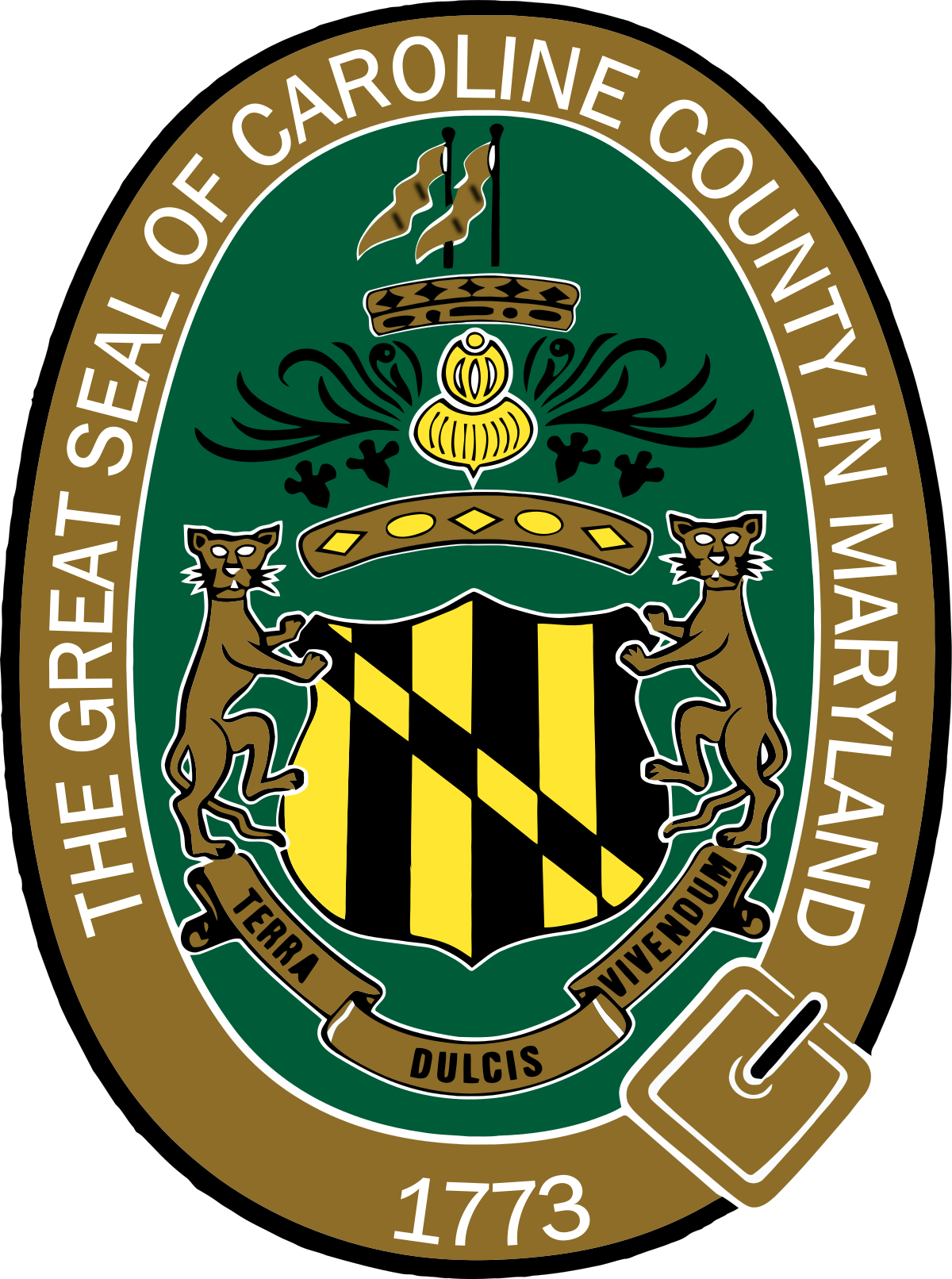 Caroline County was created in 1773 from Dorchester and Queen Anne's counties. (chapter 10, Acts of 1773). The county's name is derived from Caroline Eden, daughter of Charles Calvert, Fifth Lord Baltimore, and the wife of Sir Robert Eden, Maryland's last colonial governor.
The Great Seal of Caroline County was discovered in the Maryland State Archives as a seal that was used on county legal documents by the Clerk of the Court in Denton from c.1814 to 1856. The Great Seal features parts of the Calvert coat of arms assigned to George Calvert of Yorkshire, England. The belt around the Caroline County Seal is a recent adornment added by an Annapolis genealogist and heraldic researcher in 1953. The scroll and motto in Latin, "Terra Dulcis Vivendum" means "Land of Pleasant Living," representative of Caroline County's welcome to all. The "Land of Pleasant Living" phrase was developed by the late Arthur Deute, who made Maryland and Baltimore City his adoptive home upon his purchasing the National Brewing Company.
The six vertical pieces (or pales) of the seal, into which the Calvert Shield is divided, represent palings or palisades, and constitute the heraldic symbol of a stockade or fort, which would be appropriate to one who had fortified a town or successfully stormed a hostile fort. The diagonal band, or bend, was held to represent either a swordbelt or a scaling ladder. The crown above the shield is an earl's coronet. The Lords of Baltimore could use the earl's coronet only in relation to their American colony, which according to their charter had the rank of a county palatine. The rank of county palatine is equivalent to that of an earl. The full-face position of the helmet above the earl's coronet symbolizes the exercise of government by an absolute ruler over a free state or country. Above the helmet is a ducal coronet from which rises two spears or lances with pennons attached. The pennons display the Calvert colors, gold and black.
The Caroline County Great Seal was officially adopted by the Caroline County Commissioners on July 3, 1984. The flag of Caroline County is composed of the county seal on a medium green background, symbolizing Caroline County's heritage and future in agriculture.
Copyright © 1990-2022 by John T. Marck. All Rights Reserved. This article and their accompanying seals, may not be resold, reprinted, or redistributed for compensation of any kind without prior written permission from the author. Maryland County Seals and Baltimore City Seal and their respective origin histories from: Maryland The Seventh State A History, © John T. Marck. All Rights Reserved. All Seals courtesy of the respective county, Office of the County Executive and/or the Department of Tourism. Reprinted with permission.
A Splendid Time Is Guaranteed For All