Historical Figures From Maryland
Maryland's Historical Sites and other Places of Interest
Historical African American Figures From Maryland
Former Great Seals of Maryland
Maryland's Governor's 1634 to Present Day
Maryland's County Establishment
Maryland State Parks and Forests
Fort Frederick and the French and Indian War
The Maryland Men Who Signed the Declaration of Independence
The Great Seal of Dorchester County
By John T. Marck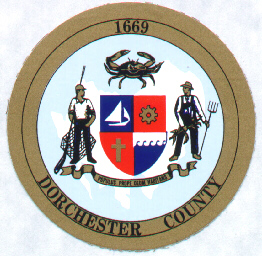 Dorchester County's legal origin is not known, although it was in existence by February 16, 1668, when a writ was issued to the county sheriff by the Lord Proprietary. The County was named for the Earl of Dorset, a family friend of the Calverts.
The Dorchester County Seal was adopted by the County Commissioners officially in 1967, and was designed by Andrew Tolley, a South Dorchester High School student. The seal is described as; a waterman, holding a pair of oyster tongs and a crab pot, faces a farmer, holding a cornstalk and a pitchfork. At the top is the popular "blue crab." The center shield is divided to show county interests, sailing, religious heritage, industry and shorelines. In the background is a map of Dorchester County surrounded by blue water, although the county is not completely surrounded by water. On the small banner under the shield are written the words "Populus prope deum habitans." Translated, this means, "people living under the care of God." The gold banded border of the seal is imprinted with the County's name and 1669, the year it became a unit of government.
Copyright © 1990-2022 by John T. Marck. All Rights Reserved. This article and their accompanying seals, may not be resold, reprinted, or redistributed for compensation of any kind without prior written permission from the author. Maryland County Seals and Baltimore City Seal and their respective origin histories from: Maryland The Seventh State A History, © John T. Marck. All Rights Reserved. All Seals courtesy of the respective county, Office of the County Executive and/or the Department of Tourism. Reprinted with permission.
A Splendid Time Is Guaranteed For All