Historical Figures From Maryland
Maryland's Historical Sites and other Places of Interest
Historical African American Figures From Maryland
Former Great Seals of Maryland
Maryland's Governor's 1634 to Present Day
Maryland's County Establishment
Maryland State Parks and Forests
Fort Frederick and the French and Indian War
The Maryland Men Who Signed the Declaration of Independence
The Great Seal of Garrett County
By John T. Marck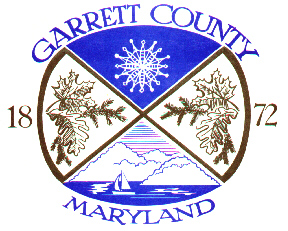 Garrett County was created from Allegany County in 1872 (Chapter 212, Acts of 1872). The County was named for John Work Garrett (1820-1884), railroad executive, industrialist, and financier.
Garrett County is located in the extreme northwestern corner of Maryland, and is bordered on the east by Allegany County, and on the west and south by the Potomac River and State of West Virginia. To the north is the State of Pennsylvania. It has a land area of six hundred sixty-two square miles and a water area of six square miles. Seventy-five percent of the county is mountainous with the remaining twenty-five percent being a rolling plateau. The highest mountain ridge is Backbone Mountain reaching a height of three thousand three hundred sixty feet above sea level. Three other mountain ranges comprise the other main elevations: Meadow Mountain and Winding Ridge which range to approximately nine hundred feet and Big Savage Mountain at three thousand feet.
On December 15, 1977, the seal of Garrett County went into effect by virtue of Resolution #7. The seal is described as elliptical, with the name "Garrett County" inscribed above the upper fourth of the ellipse, and "Maryland 1872" inscribed below the lower fourth of the ellipse. The seal depicts the seasons, winter, spring, summer and fall. Winter is illustrated by a large snowflake. Spring and fall by the oak leaves and conifer representing the County's mountains, and water and sailing for summer. The colors are blue for the water and sky, with Kelly green dividing the blue and white background. The date 1872 depicts the year that Garrett County was founded.
Copyright © 1990-2022 by John T. Marck. All Rights Reserved. This article and their accompanying seals, may not be resold, reprinted, or redistributed for compensation of any kind without prior written permission from the author. Maryland County Seals and Baltimore City Seal and their respective origin histories from: Maryland The Seventh State A History, © John T. Marck. All Rights Reserved. All Seals courtesy of the respective county, Office of the County Executive and/or the Department of Tourism. Reprinted with permission.