Historical Figures From Maryland
Maryland's Historical Sites and other Places of Interest
Historical African American Figures From Maryland
Former Great Seals of Maryland
Maryland's Governor's 1634 to Present Day
Maryland's County Establishment
Maryland State Parks and Forests
Fort Frederick and the French and Indian War
The Maryland Men Who Signed the Declaration of Independence
The Great Seal of Harford County
By John T. Marck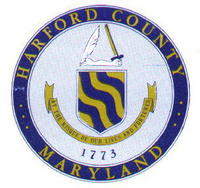 Harford County was separated from Baltimore County in 1773 (Chapter 6, Acts of 1773). The County was named for Henry Harford (1759-1834), last proprietary of Maryland. He was the son of Frederick Calvert, Sixth Lord Baltimore, but because of his illegitimate birth did not inherit his father's title.
The Harford County Coat of Arms was designed by George Van Bibber and adopted by the County Commissioners on September 28, 1964. In the accepted design the shield is gold to symbolize the wealth of the county and the richness of its fields. Across the shield are waving bends of blue signifying three major county streams - Deer Creek, Bynum Run, and Winters Run. The crest is a two-handed forearm with the right hand holding escrivant (heraldic for "writing"), a white quill symbolizing the pen used by those who wrote and signed the Bush Declaration. The left hand holds a sword as if presenting into the right hand of the nation the skills of reproducing defense materials, emanating from Edgewood Arsenal and Aberdeen Proving Ground. The "motto "At the Risque of our Lives and Fortunes" comprises the last eight words of the Bush Declaration and preserves the same spelling for "risk" that is used in that document.
Copyright © 1990-2022 by John T. Marck. All Rights Reserved. This article and their accompanying seals, may not be resold, reprinted, or redistributed for compensation of any kind without prior written permission from the author. Maryland County Seals and Baltimore City Seal and their respective origin histories from: Maryland The Seventh State A History, © John T. Marck. All Rights Reserved. All Seals courtesy of the respective county, Office of the County Executive and/or the Department of Tourism. Reprinted with permission.