Historical Figures From Maryland
Maryland's Historical Sites and other Places of Interest
Historical African American Figures From Maryland
Former Great Seals of Maryland
Maryland's Governor's 1634 to Present Day
Maryland's County Establishment
Maryland State Parks and Forests
Fort Frederick and the French and Indian War
The Maryland Men Who Signed the Declaration of Independence
The Great Seal of Prince George's County
By John T. Marck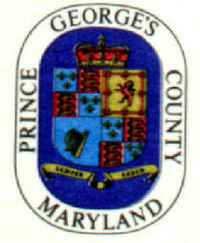 Prince George's County was created from Calvert and Charles counties in 1695 (Chapter 13, Acts of 1695, May session; to be established April, 1696). The County was named for Prince George of Denmark (1653-1708), the husband of Queen Anne.
Prince George's County and its seal are a history and heraldry dating back to the eleventh century. The red cross of St. George has been the symbol of Christian martyrdom since its first use during the great Crusades in the Holy Land. At the siege of Antioch in 1069, Crusaders believed they saw the ghost of St. George fighting at their side. Richard The Lionhearted adopted the red cross banner as a battle standard one hundred years later, using it as a special insignia on the white surcoats of English soldiers. The design continued as England's land and sea battle standard for many years.
The county seal in the flag's upper left quadrant did not officially become part of the flag until 1963 when a special committee suggested to the county government that it be added to "more definitely establish the colors as uniquely those of Prince George's County." The county seal was designed in 1696 by Charles Beckwith of Patuxent. Its crest is England's Imperial Crown, better known as St. Edward's Crown. The coat of arms in four quarters symbolizes Queen Anne, France and England in the first and fourth grand quarters, Scotland in the second grand quarter and Ireland in the third. Ribboned beneath is the county motto, "Semper Eadem," which means "Ever the Same." Originally, the seal depicted Prince George's without the apostrophe and using the old English style "u" in county. The seal was officially altered in 1971 to read "Prince George's County, Maryland" and made the lone official seal used on all documents and correspondence.
Copyright © 1990-2022 by John T. Marck. All Rights Reserved. This article and their accompanying seals, may not be resold, reprinted, or redistributed for compensation of any kind without prior written permission from the author. Maryland County Seals and Baltimore City Seal and their respective origin histories from: Maryland The Seventh State A History, © John T. Marck. All Rights Reserved. All Seals courtesy of the respective county, Office of the County Executive and/or the Department of Tourism. Reprinted with permission.
A Splendid Time Is Guaranteed For All