The French and Indian War
By John T. Marck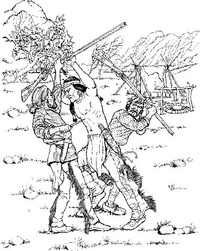 The French and Indian War was fought between 1756 and 1763. France and England began fighting because each believed they owned the land in the Ohio River Valley. During this time, French explorers had made friends with the Indians, and in doing so turned the Indians against the British. Once war began, the Indians helped the French fight the British. During the war many settlers in Western Maryland were killed. Several forts were built to help provide protection. Fort Necessity, at Great Meadows in Pennsylvania, and in Maryland, Fort Cumberland was built around what is now the City of Cumberland, and Fort Frederick, near Hancock. Many Western Maryland settlers were frightened by all the killings, and fled their homes and farms, seeking safer areas. Most went to Frederick, Annapolis or Baltimore. Finally, after England won the war, most of the settlers who had left their homes in Western Maryland did not return. They stayed in Frederick, Annapolis or Baltimore, and by doing so increased the growth of these cities.
The French and Indian War was important for American history as it began the struggle for control of the Ohio Valley. Most of the British colonies were grouped along the Atlantic coastline, while the French forts were being built around the British ones, basically encircling them. Thus, the French were constricting the ability of the British to expand westward beyond the Appalachian Mountains. Both the French and the British had an interest in the Ohio Valley. Settlers from Pennsylvania and Virginia were already there, and who had set up trading posts as early as the 1740s. During this same period, the governor of Canada, the Marquis Duquesne de Menneville began a determined campaign in asserting the French rights in the Ohio Valley, and began building forts in an attempt to strengthen their position. Upon learning that the French were encroaching in the Ohio Valley, the British Secretary of State sent instructions to the colonial governors to resist them. One governor who was especially annoyed at the French was Robert Dinwiddie of Virginia, who had more than merely an official interest that the French presence was unwanted, as he was one of a few prominent Virginians who had stock in the Ohio Company that had been granted large tracts of land in the Ohio Valley for future development. It was Governor Dinwiddie who selected George Washington, who was only 21 years old at the time, to carry the protest to the French, as well as determine their plans and movements.
In doing so, Washington went to Forts Venango and Le Boeuf in 1753, and learned that the French not no intention on leaving, and furthermore they believed that they were entitled to the entire Ohio Valley as their area of operation. Washington recorded in his journals that he and six others arrived on October 31, 1753 at what is today the site of Pittsburgh, stating that he viewed this site as favorable, due to its location between the Allegheny and Monongahela Rivers. As he continued to the north, Washington arrived at Fort Venango on December 4. At the fort he held his first meeting with the French, and upon accepting an invitation to dine with them, soon learned exactly what their plans were. It seems that after the French had indulged themselves with a little too much wine, the truth of their plans began to emerge. Washington wrote that the French told him "that it was their absolute design to take possession of the Ohio Valley and by God they would do it." The French claim and their further justification was based on the fact that their noted discoverer, LaSalle, claimed this land on and earlier exploration.
Meanwhile, construction had begun at the site that Washington had recommended, with a force of about 40 men. It was imperative to Washington that these forty men were in dire need of reinforcements before the French had time to take any action against them. So, Washington attempted to bring support. Having gone to Alexandria, Virginia for reinforcements, we left there on April 2, 1754 with a force of about 120 men. While en route to the fort, he also picked up others along the way, but when he arrived at Wills Creek (Cumberland today), he learned the sad news that fort in which they were heading to defend had already surrendered to the French. Determined not to be defeated again, Washington headed northwest into Pennsylvania to an area known as Great Meadows and hurriedly began building entrenchments.
For Washington and his men, the first shots of the French and Indian War occurred when he had received information from an Indian ally named "Half-King," that the French were on their way to his location. Instead of waiting for them, Washington attacked, killing 10, wounding 1 and capturing 21. The French viewed this as a grave mistake on Washington's part, saying that this advance party were diplomats, but Washington rejected his claim. Although war was not officially declared until 1756, this encounter is viewed as the first shots fired in the war.
Washington, now 22, was a colonel in command of the Virginia troops. His original entrenchments at Great Meadows had been strengthened and now was know as Fort Necessity. Washington believed that the French would soon be coming, and he was not wrong. Washington, with some of his men, left Fort Necessity and headed north toward Fort Duquesne, but soon learned that a large force of French were moving in his direction. Being outnumbered, he had no choice but to return to Fort Necessity. Here he readied himself and his army for what thy knew was coming. On July 3, 1754, they met in battle against the French, and were overwhelmed, but soon thereafter, Washington was forced to surrender because a heavy downpour of rain rendered their gunpowder useless. In the battle, he lost 30 men killed and 70 wounded. Because they were not officially at war, the French treated Washington well, allowing him to retreat on July 4. Thus, Washington and his remaining force marched to the south toward Winchester.
Now the British were convinced that they must stop the advance of the French, as well as capture their forts and recapture Fort Duquesne. To accomplish this, they turned to General Edward Braddock. He immediately began organizing his forces at Alexandria, Virginia in the spring of 1755. Assisting him was Washington, whose experience in the wild was a great help to Braddock.
Braddock's plan was to split his force into two columns, placing one on each side of the Potomac River, for a portion of their journey to Fort Duquesne. One of the columns was commanded by Colonel Thomas Dunbar and his 48th Regiment, whose instructions were to proceed to Frederick then cross South Mountain at a location that is today Braddock's Heights. They were then to pass through Boonsboro, cross the Antietam Creek at the Devil's Backbone, and then cross over the Potomac River and join forces with Sir Peter Halkett's 4th Regiment. Near Winchester, Virginia. Now a combined force, they were to proceed to Wills Creek, then into Pennsylvania to Fort Necessity, then move to Fort Duquesne. As they made their way through the thick forest, they were instructed to cut a road for future use.
Nearly Fort Duquesne, General Braddock became frustrated with the slow pace, and decided to detach about 1,500 men and advance onward, leaving his supplies and support to the rear. On July 7, 1755, as he and his men were about seven miles from the fort, disaster struck. Without warning, the French and their Indian allies attacked from three sides, causing mass confusion for Braddock and his men. Retreating to their rear, Braddock's men were also confronted by gunfire from their own men, advancing from the rear. In the fight, Braddock was killed, along with 63 of his officers and 914 others were either killed or wounded. Braddock was buried beside the road that he had helped to clear. Initially, stories circulated that his grave was defaced and marred by those angry at him, but this was not true. While it is true that the ground was scuffed at his grave, it was done to prevent the Indians from finding it later. Although Braddock's judgment is certainly in doubt, his courage under fire was not. In this battle, it was reported that he had five horses shot from under him, before he himself was killed.
For the colonials and the British, other tragedies followed. The French then overtook Fort Oswego, then Fort William Henry, and it seemed that they were unstoppable. To assist in turning the tide in the favor of the British, William Pitt was promoted to Prime Minister and brought with this advancement, his outstanding leadership. In 1758, Pitt's leadership and policies began a complete reversal of France's fortunes. One after another, the French forts fell to the British, so much so that the French were forced to end the war. On February 10, 1763, the Treaty of Paris was signed, which officially ended the war. By the conditions of this treaty, France surrendered Canada and all her possessions east of the Mississippi River to England. Unfortunately, it was partly because of Braddock's defeat that the necessity of forts became more apparent. Following his defeat, the Indians were as active as ever, in support of their French allies. The frontier of Maryland, Virginia and Pennsylvanian were basically at the mercy of the savage Indians. Thus, massive stockades such as Fort Frederick were invaluable in helping to defend and turn the tide against senseless murder and violence.
Copyright © 1990-2022 by John T. Marck. All Rights Reserved. This article and their accompanying pictures, photographs, and line art, may not be resold, reprinted, or redistributed for compensation of any kind without prior written permission from the author. From Maryland The Seventh State A History, by John T. Marck © John T. Marck, All Rights Reserved.
A Splendid Time Is Guaranteed For All