Historical Figures From Maryland
Maryland's Historical Sites and other Places of Interest
Historical African American Figures From Maryland
Former Great Seals of Maryland
Maryland's Governor's 1634 to Present Day
Maryland's County Establishment
Maryland State Parks and Forests
Fort Frederick and the French and Indian War
The Maryland Men Who Signed the Declaration of Independence
Fort Frederick
By John T. Marck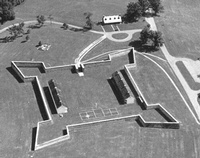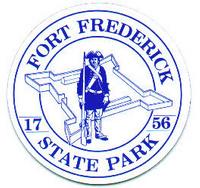 Fort Frederick, which derives its name from Frederick Calvert, Sixth and final Lord Baltimore, is located on a 56 acre tract of land in Big Pool, not far from Hancock, on Route 56, about one mile off of I-70. The land was purchased by the State of Maryland from Lancelot Jacques, a French Huguenot merchant from Annapolis. He had been granted this land in a parcel totaling about 15,000 acres. To the 56 acres was added other parcels which would make up the total area of the fort's operation.
The then governor of Maryland from 1753 to 1769, Horatio Sharpe, desired that Fort Frederick be built, and was anxious that it be done as soon as possible. After appropriating the needed funds, Sharpe informed Governor Dinwiddie of his plans. Construction began in early 1756, and so intent was Governor Sharpe to see it through quickly, he stayed on the site and supervised the building until the end of July, 1756. Construction slowed down soon thereafter, and the fort was still not complete by that fall, because more funds were needed. Governor Sharpe wrote a letter to Governor Dinwiddie on October 10, 1756, stating that the Maryland Assembly had just approved an additional appropriation of money necessity to complete the work, as well as recruit another 100 men for its garrison.
Fort Frederick is located, purposely, in an excellent strategic location whereby there are no higher elevations nearby from which an attacker would have an advantage. One of its major functions was to maintain communications between Fort Cumberland and Fort Conococheague, as well as provide a safe place for civilians and soldiers against the raiding Indians.
The fort itself encloses one and one-half acres of ground, and has a perimeter of 1,660 feet in length. Its walls are seventeen and one-half feet high with a thickness of four and one-half feet at the base, that tapers to three feet at the top. The corners are very interesting to see as they contain a bastion filled with dirt that allowed for positioning a cannon, such as a napoleon six-pounder. It has a single portal at the south wall that is twelve feet wide, and the double doors that face the Potomac River were so heavy that they required hinges weighing forty-two pounds in order for them to be serviceable. The fort contained several wells for fresh drinking water. Inside the fort are two barrack buildings, now completely restored, as well as another building used for the officers quarters. There is a clearing in the middle of the fort, between the barracks that was as a parade and training ground. Along the inside of the fort's walls are catwalks constructed at a level to enable soldiers to fire their muskets and rifles over the walls, while remaining behind cover.
Following the French and Indian War, Fort Frederick saw action again during the American Revolution, where it was used as a refuge for settlers and a prison camp for Hessian (German) and British soldiers, and again during the Civil War, when it was occupied by Union troops who fought a skirmish with Confederate raiders on Christmas Day, 1861.
Fort Frederick was the cornerstone of Maryland's frontier defense, and is a wonderful, fascinating place to visit. Fort Frederick also became Maryland's First State Park in 1922.
Another main effect that the French and Indian War had on Maryland was merely that it slowed the growth of Western Maryland, while simultaneously increasing the growth of Frederick, Annapolis, and Baltimore.
Copyright © 1990-2022 by John T. Marck. All Rights Reserved. This article and their accompanying pictures, photographs, and line art, may not be resold, reprinted, or redistributed for compensation of any kind without prior written permission from the author. From Maryland The Seventh State A History, by John T. Marck. Copyright © John T. Marck, All Rights Reserved.
A Splendid Time Is Guaranteed For All