Historical Figures From Maryland
Maryland's Historical Sites and other Places of Interest
Historical African American Figures From Maryland
Former Great Seals of Maryland
Maryland's Governor's 1634 to Present Day
Maryland's County Establishment
Maryland State Parks and Forests
Fort Frederick and the French and Indian War
The Maryland Men Who Signed the Declaration of Independence
Samuel Chase
By John T. Marck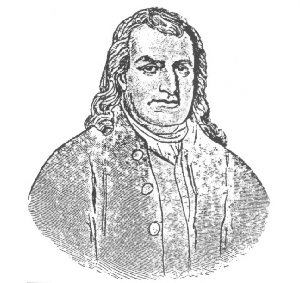 He was born in Somerset County, Maryland on April 17, 1741, the son of an Episcopal Minister. Chase was a heavy set man, with a temper, who would pound the table when raging against the King of England, or when maddened by adversaries. When angered, his face would become flushed, thus his nickname, "Bacon Face."
Samuel studied law in Annapolis, and was admitted to the bar in 1761. At the age of twenty-three, he was elected to the Maryland legislature and immediately fought royal tyranny. It was Chase who led the charge on the Stamp Act and taxation. He was one of the few delegated at the First Continental Congress to violently criticize the Crown.
Chase continued to fight aggressively for independence at the Second Continental Congress, although his own Maryland delegation had been told to vote against freedom from Britain's control. In consideration of this, his determination never weakened. Along with his colleague, Charles Carroll of Carrollton, he took to the road on horseback, and made fervent speeches for independence at towns and farms throughout the colony. This campaign was successful, and the Maryland delegation reversed its position and urged an all-out vote in favor of independence. When Chase signed the Declaration he was thirty-five. Following the signing, Chase became very active as a congressman, serving on approximately thirty committees.
Chase was appointed chief judge of the Maryland criminal court in 1788. In 1791, he was named chief judge of the general court. In 1796, President Washington appointed him to the Supreme Court. Soon thereafter he made political attacks on the Jeffersonians and was tried under the Solution Act, which led to impeachment proceedings. Samuel Chase was acquitted and remained on the court until his death in Baltimore on June 19, 1811 at the age of seventy.
Copyright © 1990-2022 by John T. Marck. All Rights Reserved. This article and their accompanying pictures, photographs, and line art, may not be resold, reprinted, or redistributed for compensation of any kind without prior written permission from the author. From Maryland The Seventh State A History, by John T. Marck. Copyright © John T. Marck, All Rights Reserved.