Historical Figures From Maryland
Maryland's Historical Sites and other Places of Interest
Historical African American Figures From Maryland
Former Great Seals of Maryland
Maryland's Governor's 1634 to Present Day
Maryland's County Establishment
Maryland State Parks and Forests
Fort Frederick and the French and Indian War
The Maryland Men Who Signed the Declaration of Independence
FALLING BRANCH FALLS
By John T. Marck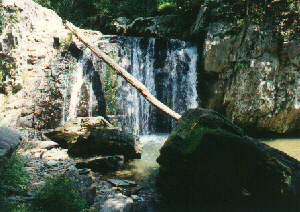 Having lived most of my life in Harford County since 1958, I thought I knew all the interesting and historic places. One such place that escaped me is Falling Branch Falls, the second largest vertical drop falls in Maryland (The largest being Muddy Creek Falls in Swallow Falls State Park in Garrett County). In fairness to those of us from Maryland who had not heard of it, Falling Branch was on private property until March 1, 1993, when the State of Maryland, Department of Natural Resources purchased the land, and made it a part of Rocks State Park. Opened to the public in October 1993, Falling Branch Falls (also called Kilgore Falls) is located on Falling Branch Stream, a little known area, surrounded by thick forests and vines. The stream got its name from a series of rock cliffs found about a mile above its mouth, which make the water fall 30 feet, spraying ancient logs.
This natural 30-foot waterfall is where the original Americans would come to bath. Near the falls are the remains of stone steps, perhaps constructed by the Susquehannock Indians. Just below the falls there once stood a mill and dwelling house, once owned by a man named Isaac Jones. Once at the falls, it is also interesting to note the huge rock walls that enclose the area on three sides.
It is a beautiful, remote, tranquil, historic area, and worth a visit. As it is managed by the Rocks State Park, picnicking and swimming are permitted, but open fires are prohibited. To get there you follow Route 24 through the Rocks State Park, past Route 165, to St. Mary's Road. Turn Left on St. Mary's Road and follow to Falling Branch Road. Turning right on Falling Branch Road (a gravel road) you proceed to a parking lot, at the home of the park ranger. From the parking lot there is a path to the falls, which is an approximate fifteen minute walk. The falls are open 9:00 a.m. to sunset, seven days a week. For additional information you may call the Rocks State Park at 410-557-7994.
Copyright © 1993-2022 by John T. Marck. All Rights Reserved. This article and their accompanying pictures, photographs, and line art, may not be resold, reprinted, or redistributed for compensation of any kind without prior written permission from the author.