Historical Figures From Maryland
Maryland's Historical Sites and other Places of Interest
Historical African American Figures From Maryland
Former Great Seals of Maryland
Maryland's Governor's 1634 to Present Day
Maryland's County Establishment
Maryland State Parks and Forests
Fort Frederick and the French and Indian War
The Maryland Men Who Signed the Declaration of Independence

Ladew Topiary Gardens
by John T. Marck


Ladew Topiary Gardens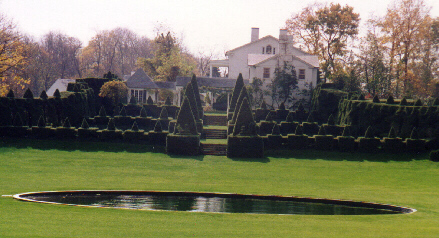 One of Maryland's most beautiful tourist attractions, located in Monkton on Jarrettsville Pike, between Madonna and Jacksonville is Ladew Topiary Gardens, and Pleasant Valley House, the home of Harvey Smith Ladew.
Harvey Ladew was born in New York in 1886, the son and heir to his family business making leather belts. Not the leather belts a person might wear, but the ones used in factories to operate various types of machinery. Because of the family business, Mr. Ladew became a millionaire, and never had to work, and never really did. His plan was to enjoy life while he was young, and begin work when he was fifty years old. As Harvey said, "There is so much to see, to do, I thought I'd reverse life's patterns - play, then work."
A mischievous boy, and a man of great humor, he was raised under the good, fashionable life in New York. Traveling often in his youth to Europe, his favorite trick was sitting on the thrones in castles. By the time he was fifteen, he had sat on more thrones than all of Queen Victoria's vast family put together. At the outbreak of World War I, Harvey took the first boat that was available home; which happened to be the Kaiser's confiscated yacht. Following the war, where he served as an Army liaison officer, he decided to retire from the family business, and pursue one of his passions, fox hunting. Having hunted for twenty-one seasons, not only in Maryland, but also in England, Ireland and France, he once set an international fox hunting record by riding to hounds on both sides of the Atlantic in a seventy-two hour period. This was accomplished by crossing the Atlantic in an amphibious plane. It was this passion for the fox that led him to Maryland. In 1929 he moved from his home on Long Island, to Maryland, and purchased Pleasant Valley House, because the hunting was good and the fences "weren't made of wire," as they were in Long Island.
When Harvey purchased this house is was in a dreadful condition. In 1929, at age forty-three, Harvey was to some degree starting over. Here was a man who was used to living in mansions, and manor houses, and who stayed at various castles in Europe, and who came from a fine house on Long Island, which had magnificent flowers and greenhouses about. Pleasant Valley had none of the things he was used to, not even plumbing or electricity. The only flowers on the property was a dying lilac bush that was "promptly put out of its misery" he once said. Still, as hunting was his passion, he needed a house in which to live so he could do this hunting in Maryland, mostly for convenience.
Upon his purchasing Pleasant Valley house in 1929, he started to redo the house. The house was originally built in c.1770, and over the next forty-seven years he added on the house, and perfected the many gardens within its two-hundred acres, to what they are today. As one walks through the house today, you get the feeling that you are a guest of Mr. Ladew, rather than just a visitor touring the home. Everything that you see within the house is the same as when Harvey lived there. Throughout the house, the most notable themes are the fox and hound, from the stuffed fox heads hanging on the walls, to the many paintings, both canvas and on the windows. Although Harvey was the genius behind the renovations, it was his friend and architect, James O'Connor who made it all possible.
Upon entering the drawing room, one will notice the architectural details of the broken pediments and molding which were copied from the Hammond-Harwood House in Annapolis due to Harvey's love of the state of Maryland. The paneling in the drawing room is a rare Elizabethan type, which he found in London, and the ceiling plaster work was copied from a period design by some New York craftsmen. The ceiling plaster was white in color, but Harvey felt that it looked to new, so using the fireplace in the room, he would make a fire, then close the flue, allowing the black smoke to fill the room, darkening the ceiling, creating the "old look." Hanging on the walls in the drawing room are two Chippendale-style mirrors, quite unique, with the fox and hound theme on the gilt frame.
Upon entering Mr. Ladew's office, one will see that it is filled with hunting memorabilia. Also, throughout the house are many photographs and letters displayed. Two letters of particular interest are one from the then Prince of Wales, later King Edward VIII, thanking Harvey for lending him his favorite horse, named "Ghost" for a hunt on Long Island. The second are letters to Mr. Ladew from T.E. Lawrence.
Mr. Ladew had an oval Chippendale partners' desk, but did not know where to put it in the house. He asked a friend for advice, and the friend said why not build a room around it? And so he did, again with the help from James O'Connor. Harvey called this room his circulating library, which contains more than three-thousand volumes, many first editions. In the library are many bookcases, of which one swings out much like a door. Behind this bookcase is a small closet like area, which leads to an exterior door. As the story goes, Harvey, upon getting bored with his guests, would slip out through the bookcase to the outside.
In the entrance hall, at the foot of the stairs leading to Mr. Ladew's bedroom, is a newel post inset containing a silver dollar dated 1847. The original owner did this to indicate the year the mortgage was finally paid off.
The Ladew estate features 15 enchanting garden rooms, a Nature Walk and a historic manor house. The gardens and Nature Walk are self-guided, and the House tour is guided. From the formal Rose garden to the Cottage garden, Water Lily garden and Victorian garden, visitors will enjoy an array of color, texture and form throughout the seasons. The crowning glory is the topiary-trees and shrubs trained and trimmed into ornamental shapes. Ladew's topiary sculpture garden contains many examples of this meticulous craft ranging from Winston Churchill's top hat and victory sign to a unicorn and seahorse. Topiary are located throughout the property, most notably the Hunt Scene by the entrance to Ladew that displays a hunter on horseback following hounds in pursuit of a fox. The Nature Walk provides visitors with an excellent example of habitat and local species. In addition to the gardens and Nature Walk, the historic Manor House is open for tours. Visitors can enjoy English antiques, paintings, photographs, sketches and fox hunting memorabilia. The Oval Library is featured in the book 100 Most Beautiful Rooms in America. Groups of 15 or more are asked to make arrangements for group tours 2 weeks in advance. Never without humor, it was in the Garden of Eden, which contains apple trees that Harvey placed a statue of Adam and Eve. Inscribed in the three steps that lead to this garden is written," If you would be happy for a week, take a wife. If you would be happy for a month, kill your pig. But if you would be happy all your life, plant a garden."
One of the most beautiful views is looking from the Sculpture Garden across the Great Bowl toward the house. The Great Bowl is a large oval pool, ten feet deep, with a fountain, once used by Mr. Ladew for swimming. Today this large area surrounding the Great Bowl is the setting for concerts and other events. The grounds also contain a Croquet Court, which originally was a tennis court, converted by Mr. Ladew.
The Ladew Topiary Gardens and House are open from mid-April to October 31, Monday through Friday from 10:00 a.m. to 4:00 p.m. and on weekends from 10:30 to 5:00 p.m. Admission to the Gardens and Nature Walk is $8.00 for adults; $7.00 for seniors, and $2.00 for children. Admission to the House, Gardens and Nature Walk is $12.00 for adults; $11.00 for seniors; and $4.00 for children.
The Ladew Café Hours of Operation are: Seven days a week from 11:30a.m.-3:00p.m. Light refreshments are served until 3:30p.m.
During Mr. Ladew's lifetime he received many awards. He was the Master of the Elkridge-Harford Hunt for seven years. In 1971, about the time the Topiary Gardens opened to the public, he received the Distinguished Service Medal of the Garden Club of America for his "great interest in developing and maintaining the most outstanding topiary in America, without professional help." Mr. Ladew died in 1976, at the age of ninety. Today the twenty-two acre gardens, with their world famous topiary figures and hedges are still considered the most outstanding topiary gardens in America by the Garden Club of America. The house and gardens are a place that all should visit.
Ladew Topiary Gardens and Manor House are located at 3535 Jarrettsville Pike, Monkton, Md. 21111. To get there, from Baltimore, take exit 27b (Dulaney Valley Road) off the Baltimore Beltway (I-695). Follow Dulaney Valley Road across the Loch Raven Bridge, baring left at the traffic light (Jarrettsville Pike). Follow Jarrettsville Pike approximately eight miles to the Ladew entrance on the right. From Harford County follow Rt. 152 (Mountain Road) Northwest to the end. Turn left onto Rt. 146 (Jarrettsville Pike) and follow about one half mile to entrance on left.
For additional information, please call their information line at: (410) 557-9466.
A Splendid Time Is Guaranteed For All
Copyright© John T. Marck. All Rights Reserved. This article and their accompanying pictures, photographs, and line art, may not be resold, reprinted, or redistributed for compensation of any kind without prior written permission from the author. The author would like to thank Ms. Amy Beth Hall, Marketing Coordinator, Ladew Gardens, for her updated informational assistance. Photograph of Ladew Topiary Gardens and Mansion House, © 2000, John T. Marck.